Gran Turismo 4 Prologue
Gran Turismo 4 Prologue builds are the first versions to begin using Adhoc - leading towards an engine rewrite in general. Each GT4 build moved away from GT3 formats, until GT4 which is entirely different.
GT4 Prologue Subaru Version (?)¶
Dumped:
No · No Redump Info
Game Code: PCPX-96643
Undumped build.
Video
---
GT4 Prologue E3 Build (~Jun ??, 2003)¶
Dumped:
No
Video
---
GT4 Prius Trial Version (Sep 25, 2003)¶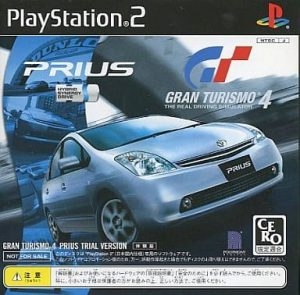 Dumped: - dumped by Paiky/GT Archive, available on hiddenpalace · Redump Info
Game Code: PAPX-90512
Build Info

Adhoc Version: 3
Config: prius
Supports up to instruction: VARIABLE_PUSH
BuildNumber: 62
Game Code: PAPX-90512
Uses V2.2 Volume TOC (GT3-type volume, despite being named GT4.VOL)
Unified executable
ISO Size: 1.41 GB
ISO CRC: E091C9AA

Warning

Adhoc Instruction 6 and 7 are taken by BlockExec and BlockPush

Exception handling is soft-stripped, "exception handling disabled" present in the executable, but still present in general
Video by Paiky/GT Archive
Hidden/Beta Tracks
---
GT Special Edition 2004 Geneva Edition (Feb 17, 2004)¶
Dumped: - available on archive · Redump Info
Game Code: SCED-52455
Build Info

Adhoc Version: 5
Config: mtr
Supports up to instruction: 36 - VARIABLE_PUSH
BuildNumber: 86
Game Code: SCED-52455
Uses V2.2 Volume TOC (GT3-type volume, despite being named GT4.VOL)
Unified executable
ISO Size: 1.14 GB
ISO CRC: 2B1688E9
Video by Paiky/GT Archive
---
GT4 Prologue¶
Dumped:
Game Code: SCES-52438
Build Info

Adhoc Version: 5
Supports up to instruction: 36 - VARIABLE_PUSH
VersionBranch: prologue
BuildNumber: 317
Game Code: SCES-52438
Uses V2.2 Volume TOC (GT3-type volume, despite being named GT4.VOL)
Bootstrap + Core executables
ISO Size: 3.25 GB
ISO CRC: 21114BC4
---
GT Special Edition 2004 Toyota Demo (Mar 12, 2004)¶
Dumped: - available on archive · Redump Info
Game Code: SCUS-97384
Build Info

Adhoc Version: 5
Config: mtr
Supports up to instruction: 36 - VARIABLE_PUSH
BuildNumber: 372
Game Code: SCUS-97384
Based on the GT3 engine
Uses V2.2 Volume TOC (GT3-type volume, despite being named GT4.VOL)
Unified executable
ISO Size: 1.14 GB
ISO CRC: 691F32D4
Video by Paiky/GT Archive
---
Last update:
September 22, 2023
Created:
September 22, 2023
Comments